IFMA Releases First-ever Asia-focused Operations & Maintenance Benchmarking Report
Mar 08, 2022
Available in English and Simplified Chinese, the report is the first of its kind for the region. Sponsored by JLL, the report presents useful data for measuring facility performance, costs, energy management and sustainability efforts.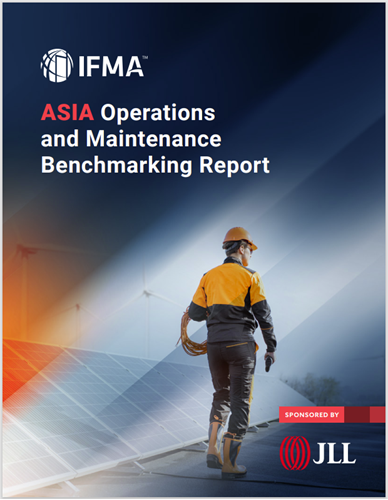 As the most trusted global provider of benchmarking metrics for the facility management (FM) industry, the International Facility Management Association (IFMA) today released its Asia Operations and Maintenance (O&M) Benchmarking Report, the first report of its kind for the Asia-Pacific (APAC) market. Sponsored by JLL, the report focuses on the main facility operations areas: janitorial, maintenance and utilities, giving FMs better insights into how their facilities perform compared to others.
Available in both English and Simplified Chinese, the report provides detailed performance metrics for total cost per square foot across several demographic factors. And with rising urgency for FMs and the wider built environment to meet global sustainability goals, energy management and sustainable O&M practices (including green cleaning) are also covered.
"IFMA is proud to bring our highly regarded O&M Benchmarking Report to the APAC market. FM professionals can use this data to compare and evaluate facility projects, identify and recommend new or updated practices, explain the benefits of O&M improvements, justify increased resources and position themselves for career advancement," said IFMA President and CEO Don Gilpin.
In July 2020, a survey was sent to more than 2,000 IFMA professional members throughout Asia, including Australia, China, Hong Kong, India, Philippines, Singapore, Sri Lanka and Vietnam. Respondents were asked to provide facility information over a 12-month time period. From the report's Executive Summary:
Space allocations per occupant – an important factor in evaluating worker productivity and environmental conditions – are nearly 70 percent less in Asia as compared to North America.
Average janitorial cost: US$1.29 per square foot.
Average maintenance cost (external, interior, roads and grounds, central systems, process treatment): US$2.50, with Australia and Singapore reporting the highest costs (with an average of US$5.19/sq. ft.), and China (excluding Hong Kong) reporting US$0.93/sq. ft.
Total maintenance staff size (specialty trades, supervisors and administrative support): 69.7 full-time equivalents.
Respondents were asked to report on their changes in utility consumption, compared to previous years. Overall, 50 percent of respondents reported lower consumption for 2020 (compared to 2019), citing a range of consumption changes, including impacts due to the COVID-19 pandemic.
"At JLL, we aim to transform how space is used and manage facilities by putting people first, leading tech-enabled optimization and shaping a sustainable future. We uphold the highest industry standards and constantly evaluate our performance by benchmarking against the best practices in the sector. We are honored to work with IFMA in expanding its research to the Asia market, as it provides the industry with useful tools and data for measuring facility performance, costs, energy management and sustainability efforts, which will help to bring a higher level of excellence to the industry in the region," said Jeffrey Yung, Executive Director of Work Dynamics at JLL in Hong Kong.
Gilpin added, "With elevated focus worldwide on health and safety improvements and cost and service efficiency, IFMA's benchmarking reports serve to inform and guide facility professionals in assessing performance and optimizing operations for compliance and competitiveness."
IFMA's Asia Operations and Maintenance (O&M) Benchmarking Report is available for purchase in IFMA's online Bookstore at ifma.org/marketplace/ifma-bookstore#!/Asia-Operations-and-Maintenance-Benchmark-Report/p/442369422/category=0.
IFMA's research department can assist companies in forming benchmarking groups and conducting more detailed, smaller-scaled benchmarking studies. Contact Nickalos Rocha, Director, IFMA Benchmarking at nickalos.rocha@ifma.org.