Recently Updated
Become an expert in sustainability
The leading credential for you to meet the increased needs for sustainable operations and improve the triple bottom line for your company.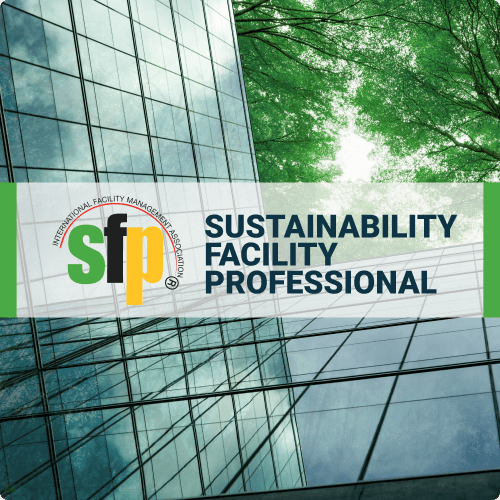 Trusted by 1,500+ facility professionals at some of the world's largest companies

Everything you need to learn to make an impact
This credential course is packed with the latest insights and best practices to help you support your company's growth and meet the evolving demands of environmental responsibility.
"The SFP is a major segment in supporting and maintaining an organization's sustainability mission and vision by providing FMs with the knowledge and resources to execute, deliver and maintain sustainable buildings and infrastructures. "

Patrick Okamura, CFM, FMP, SFP, IFMA Fellow
"The SFP credential helped me translate abstract concepts into practical application!"

Lynn Baez, CFM, FMP, SFP, CBCP, IFMA Fellow
"Earning my SFP helped me to do all I can to achieve the highest sustainability goals for my employer."

Ronald Ward, FMP, SFP, CPSI
"My SFP was very valuable because it gave me ways to build the value case for my buildings."

Jeremy MacDonald, SFP, MCR, LEED-AP
What's Included
Learn key strategies and tactics such as improving operational efficiencies, energy purchasing and consumption, and also introduces the emerging trends like ESG, circular economy and more.
The leading credential to help you upskill and meet the needs of your demand organization's triple bottom line.
Plan-Do-Check-Act cycle
Strategic Framework
Communications Plan
Change Management
Business Strategy
Material Management
Reporting Techniques
Financial Planning
"Sustainability is the future for organizations. And the SFP gave me a great foundation to be a part of the conversation!"

Dawn Moynihan, CMF, FMP, SFP
"The SFP taught me how to develop plans and quantify projects to ensure we approach them strategically."
Travis Dodson, MBA, CFM, CIPM, FMP, SFP, ProFM
"With the SFP, I'm able to help management understand the importance of reducing waste."

Samantha Todd, FMP, SFP
"The SFP creates value and changes the perception that FM is just a cost center."

Ronald Ward, FMP, SFP, CPSI
Improve operations. Deliver results.
Develop Better Strategy
Apply strategic framework for sustainability planning to your facilities.

Improve change management
Understand who to involve in sustainable culture shifts and recognize contributors.
make a business case
Learn how to gain buy-in and report on sustainability improvements.
engage with others
Connect with other facility professionals in optional learning labs. *
discuss key topics
Participate in thoughtful discussions to solidify learning. *
learn business reporting
Learn the art of creating communications and strategic plans.
*Learning Labs are optional, virtual classes designed to promote course engagement. Coming in 2023.
Frequently Asked Questions
If you work through one (1) chapter and its corresponding final assessment per week, you can finish the SFP in 14 weeks. On average, it takes 46-67 study hours to complete the entire program (this doesn't factor in the optional, virtual SFP Learning Labs).
You will have access to the full SFP program for 1 year (12 months) from your activation date.
No. We're deeply committed to sustainability, so the SFP program is completely online. Optional printed materials are available for an additional fee. Email corporateconnections@ifma.org to order printed materials
The SFP was designed to help you operate buildings sustainably, whether they're certified or not. Once you certify a facility, you must maintain that certification. Those who hold the SFP credential are an extension of that and can apply their knowledge of sustainable practices into every aspect of their role in the organization. 
Think of the SFP as an investment in future protection of your building certification. 
Our subject matter experts added the following emerging trends and current events into the course content:
Circular economy
United Nations' 17 Sustainable Development Goals
ESG
The SFP is achievable for facility professionals with a basic understanding of FM fundamentals and resource usage measurement. We strongly advise being knowledgeable in the four foundational competencies of FM, as covered in the FMP: 
Operations + Maintenance
Finance + Business
Leadership + Strategy
Project Management 
To be recognized as an SFP, you'll submit an application once you've completed all final assessments. 
When your application is officially approved, as an SFP you'll receive: 
A confirmation email from IFMA 
A lifetime listing in our credentials registry 
A digital certificate of your achievement and a digital badge for verification of your knowledge. 
Use this to share your credentials with current/potential employers, decorate your LinkedIn profile, include in your email signature and more. 
For more information on accessing your digital badge and certificate, email credentials@ifma.org. 
Yes! Switching to the new, updated SFP program is easy. All you need to do is contact training@ifma.org and request an update. The process usually takes 1 business day to complete.
We would love for you to bring your sustainable facilities knowledge up-to-speed with the learning content in the new SFP updates. To be enrolled into the updated SFP, please contact training@ifma.org. You will only have access to the updated online content, and your access will last for 6 (six) months from the date of activation. 
Yes, we do offer corporate and group training. Special pricing applies for groups of 2 or more individuals. Contact us at corporateconnections@ifma.org to learn more.  
"The SFP program has been very beneficial to my development, providing me with the knowledge and tools to enhance my workplace. It has also shown my leadership benefits by giving confidence and weight to the ideas I bring them."
Matthew Kuhlmeier, FMP, SFP
"Recommended for anybody looking for practical knowledge of sustainability."
Sharatchandra Rao, CFM, PMP, FMP, SFP, IOSH MS
"Great course! I can now assist my customers with sustainability initiatives."
Jenna Young, SFP
"Discuss and accelerate ideas into actions, by establishing sustainable practices for the FM Community."
Dinesh Reddy
Learn new skills and increase your value as a facility professional
Join thousands of facility managers who have advanced their careers.
Full Member
25% OFF Standard Price!
Lifetime Access
No Prerequisites
Flipbook and PDF
3 Units (12 chapters)
50+ Hours of Content
Study aids and flashcards
Internationally Recognized
Sustainability Best Practices
Standard
Buy Now
For Discovery members and nonmembers
Lifetime Access
No Prerequisites
Flipbook and PDF
3 Units (12 chapters)
50+ Hours of Content
Study aids and flashcards
Internationally Recognized
Sustainability Best Practices
Still unsure? We'll help you find your training.
Our Career Compass quiz or Self Assessment tool will help you find the FM training that's right for you.
Career Compass
2-minute quiz to get
course recommendations
Self Assessment Tool
Two-hour self-assessment
to target knowledge gaps
To those that make it possible
A special thanks to all of the volunteers of the Certificate Commission who help solidify
IFMA credentials as the world-leading education for facility managers.
Christopher Hodges, P.E., CFM, FMP, RRC, LEED AP, IFMA Fellow


CHAIR

Paul Ratkovic, CFM, FMP


VICE CHAIR

Stephen Brown, CFM, FMP, SFP, CPE, MBCP, CBCPP, CESCO REM
Bill Conley, CFM, SFP, ProFM, LEED AP, IFMA Fellow
Vaughn Halliday, MSc., CFM, FMP, SFP, PMP, ProFM, AssocRICS, LEED Green Assoc
Jomy Jacob Jo, CFM, SFP
Lesley Koehler, CFM, FMP, SFP