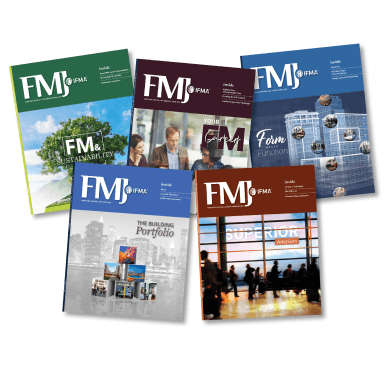 IFMA's FMJ, the association's official magazine, is written for and by professionals who develop and maintain productive workplaces.
It is the only industry publication that draws on the collective knowledge of IFMA's highly connected global network of FM thought leaders to bring you insights on current and upcoming facility management trends.
Get your copy — subscribe to receive a full year (six issues) of the best source of information for workplace professionals.
Annual subscriptions:
Full Members US$48 (that's US$8 per issue)
Regular Price is US$84.
Who Reads IFMA's FMJ
You're in good company — subscribers include facility professionals from industry-leading organizations around the world.
facility fusion 2022 sponsors



world workplace 2022 sponsors




Subscribe to IFMA's FMJ to receive the print edition or log on to get the full digital version, including extra articles, videos, podcasts and more in the Extended section!

Editorial Calendar
All facility management professionals are encouraged to share their knowledge and expertise with the worldwide FM community by writing an article for IFMA's FMJ magazine. Article submissions are accepted year-round — simply choose a topic from the editorial calendar and follow our article submission guidelines.
Sustainability
• Building and budgeting a long-term sustainability plan
• What FM can learn from implementing sustainability mandates
• Energy efficiency and fiscal responsibility
• Crafting your O&M plan to meet sustainability goals
• Waste solutions for green goals
• Creating sustainability buy-in from the C-Suite to the ground floor
• Why go green?
• What's next in green tech?
• Weather or not — weather proofing and preparing for your climate
• The Paris Agreement — what comes next/how to comply/working within its parameters
• Biomimicry
FM & People
• Growing the FM industry
• Benchmarking your career
• What's next in FM credentialing/education?
• Diversity in the industry: How FM can set the example for others to follow
• Harnessing facility information from your most experienced staff members
• What can NextGen FM expect in their career?
• Developing public awareness of FM
• Communication matters
• Can FM build on the momentum it gained during the pandemic?
• FM's influence on CSR
• The changing face of FM
• Hybrid workplaces — the next reinvention
• The job board
• Trends that are changing the FM profession
FM Finance & Strategy
• Strategic planning for the phase of a facility's life
• Influencing the C-Suite for long-term success and planning
• Emergency Preparedness & Business Continuity
• Building the budget
• Cost control: balancing efficiency and effectiveness
• Developing public awareness of FM
• Risk management for everyday operations
• Right-sizing your FM staff
• Executing the big FM project
• Proactive asset management
• Change management/industry trends
FM 101
• Managing visitor safety in flexible space
• Everyday O&M
• Why are you here?
• Keeping your great outdoors great
• FM Budgeting
• Benchmarking data — what's relevant and why?
• Better Together —  Why HR, FM and IT need each other
• Moving up in the FM world
• Managing everyday contractors and vendors
• Strengthening the links on the supply chain
Sustainability
• The future of sustainability
• Being a good steward in your community
• FM's leadership role in the global green movement
• Benchmarking your facility's green journey
• Picking the green credential that's right for your facility
• Choosing the right ways to reuse, recycle and upcycle
• Cleaning Green
• Selling sustainability to the post pandemic C-Suite
• Doing more with less
• Sustainability & the hybrid workspace
Risk Management + Health & Safety
• What is FM's next big risk?
• Security in the hybrid workplace
• Ongoing IAQ
• Identifying your worst-case scenario
• What is a healthy workplace?
• Disaster recovery and business continuity
• Renovating with risks in mind
• Risk management across the portfolio
• FM's relationship with local government
• Finding weak points before the bad guys find them
• Implementing a workplace safety plan
• Health & safety in arts and sports venues
• Visitor management
• Using a safer outside to make a safer inside
Technology
• Cyberthreats and FM
• Raising your AI IQ
• Security in the hybrid workplace
• Intelligent design through AR
• Robotics and the FM team
• Maximizing your IoT
• FM & IT — what does each side need from the other?
• Choosing the right time to upgrade
• Building employee/visitor trust in tracking systems
• Evolving PropTech
• Using technology to connect a multigenerational team
• Technology's role in FM capital planning
• Protecting the data center
• What to do with leftovers after pivoting to the hybrid workspace
• The new age of the meeting room
We Are FM
• The many hats of the successful FM
• Why FM matters
• Growing the next generation of FM
• DE&I Staffing
• FM's direct influence on workplace culture
• FM's role in ESG reporting
• FM has a seat at the table — Now what?
• Managing the FM team
• FM & HR — we're not so different
• Recognizing blue collar FM
• The next step in your FM career
• Succession planning — getting ahead of the loss of knowledge
Real Estate & Property Management + Occupancy
• What's next in workplace design?
• Noise mitigation
• What your facility says about your organization
• Managing operational space
• Optimizing the portfolio
• Designing the emotionally healthy and intelligent workplace
Contact Us
Want to submit content for publication, participate in research, or advertise with us? Reach out below.

Write
Find out how you can contribute.
Contact marketing@ifma.org

PARTICIPATE
To participate in research and
surveys reach out to Nickalos Rocha

advertise
Contact IFMA's Expos and Advertising team at expoadv@ifma.org or +1-713-623-4362