Corporate Sustaining Partners
Thought leaders and solutions providers for the facilities management industry.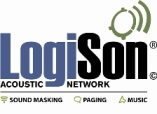 Visit Website
LogiSon Acoustic Network
Partner Since 1999
The LogiSon Acoustic Network is a networked sound masking, paging and music system that increases speech privacy and reduces noise disruptions in the workplace. A centrally-located control panel, PC or handheld computer provides control over all audio settings and zoning. Changes can be made in minutes, without re-accessing the ceiling.
Featured Contributions
IFMA's FMJ
Industry
Acoustical / Sound Masking
We are here for you
Meet the CSP team dedicated to ensuring you get the most out of your partnership.
Kim Coffey
Senior Director,
Sales and Corporate Partners
Ashley Tucker
Director, Marketing
and Communications
Alyssa Kirkman
Marketing Manager,
Membership
Cassandra Warholak
Partner Support
Specialist