FMJ Past Issues
FMJ magazine has been published by IFMA since 1988, and digital archives of complete issues from 2012-2017 are available below. In addition, PDFs of individual articles from issues prior to 2013 are available for download on IFMA's Knowledge Library.
CURRENT ISSUE: FM Technology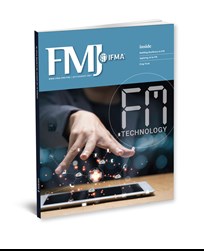 From sensors to smart bathrooms, reentry is accelerating technology's evolution and implementation in the workspace. As occupants and visitors are more cognizant of cleanliness, sanitation and capacity, FMs must stay ahead of the curve to ensure they build and maintain trust.
2021
2020
201​9
2018
2016