FMJ Past Issues
FMJ magazine has been published by IFMA since 1988, and digital archives of complete issues from 2012-2017 are available below. In addition, PDFs of individual articles from issues prior to 2013 are available for download on IFMA's Knowledge Library.
CURRENT ISSUE: O&M Planning and Project Management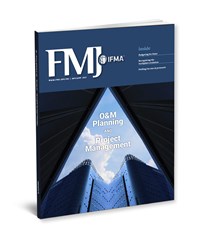 An FM's job is never done. During the pandemic, FM teams took on new challenges and created opportunities. This issue of the FMJ focuses on O&M/Planning and Project Management, with articles highlighting budgeting for solar power, keeping valuable facility information safe and searchable and much more.
2021
2020
201​9
2018
2016