Subscribe to FMJ
FMJ, the official magazine of IFMA, is written for and by professionals who develop and maintain productive workplaces.
It is the only industry publication that draws on the collective knowledge of IFMA's highly connected global network of FM thought leaders to bring you insights on current and upcoming facility management trends.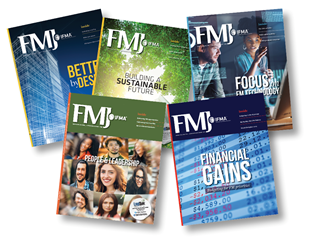 Get your copy — subscribe to receive a full year (six issues) of the best source of information for workplace professionals. Annual subscriptions are only US$48 for Full Members (that's US$8 per issue) - Regular Price is US$84.
Who reads FMJ?
You're in good company — subscribers include facility leaders from organizations at the top of their respective fields.
Sample reader titles:
Building Operations Superintendent

Buildings & Grounds Division Chief

Chairman/CEO/COO

Chief Facilities Engineer

Construction Project Manager

Corporate Health & Safety Manager

Director of Facilities/Building Operations

Enterprise Asset Manager

Environmental Services Director

Executive Director Facilities, Planning & Design Construction

Global Head of Facilities

Infrastructure Planning Analyst

Plant Supervisor

Regional Portfolio Manager

Senior Civil Engineer

Senior Workplace Strategist

Vice President, Facility Services/Corporate Properties
Sample reader companies:
3M Company
ABM
AECOM
ARAMARK
ARCHIBUS, Inc.
CBRE, Inc.
ConocoPhillips
Cushman & Wakefield, Inc.
Deloitte & Touche LLP
eBay, Inc.
General Electric
GlaxoSmithKline
Harvard University
Herman Miller, Inc.
IKEA
Intel Corporation
International Monetary Fund
ISS
JLL
Kaiser Permanente
KPMG
LinkedIn
Lockheed Martin
Nike, Inc.
Oracle
PricewaterhouseCoopers
Proctor & Gamble
Siemens
Smithsonian Institution
Sodexo
Sony Electronics
T Rowe Price Associates, Inc.
The Coca-Cola Company
The Walt Disney Company
Thomson Reuters
Toshiba
U.S. Navy
Visa