Contribute to IFMA's FMJ magazine
Facility management and related industry professionals at all levels of their careers are encouraged to share their knowledge and expertise with the worldwide FM community by writing an article for FMJ.
IFMA's official magazine is distributed electronically to IFMA members every other month and print copies are mailed to member and nonmember subscribers.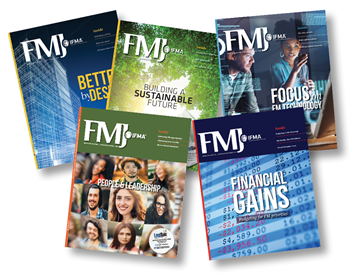 Steps to submit an article to FMJ
Review planned topics for upcoming issues on the editorial calendar.
Email an abstract or brief summary of the proposed article to Bobby Vasquez.

Once your article proposal has been accepted, draft the text following FMJ's

 

article submission guidelines.

Submit the following materials by the deadline indicated:
Required: 
Final bylined article (1,500-2,000 words)

High resolution author headshot(s) (minimum of 300 dpi)

Brief author bio(s) (two to six sentences)

Completed 

article submission release form
 Optional:
Any high-resolution images you would like to suggest to accompany the piece, along with image captions/credits if applicable
Suggestions for extra resources (videos, blog posts, podcasts, infographics, white papers, etc.) to accompany the article in the digital magazine (please provide links)
Best practices
FMJ is written for busy facility management and workplace professionals and is not a peer-reviewed academic journal — use clear, straightforward language. If applicable, references should be cited as end notes and not within the article text.

FMJ is read around the world, so articles should focus on general concepts and globally applicable best practices.

Advertorials (articles promoting specific products or services by name) are not accepted.

Avoid writing in first or second person and do not quote yourself or a co-author.
Never miss an issue — subscribe to FMJ
Position your business as a thought leader — advertise in FMJ.
Questions? Contact Editor Bobby Vasquez.