Commercial Carpet and Textile Care
MilliCare

Serving as a strategic partner, MilliCare provides facility managers with the products, services and knowledge they need to implement long-term maintenance plans for carpet and textiles. Our global network of professional franchise partners work with commercial buildings of all types and sizes to increase operational efficiencies and prolong the lifecycles of your investments.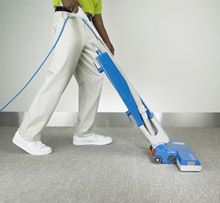 Once our industry-leading environmentally friendly dry polymer is brushed into your carpet, it clings to the particles on and beneath the surface. The polymer and the dirt are vacuumed away at the same time, leaving your commercial carpet clean, dry, and residue-free. Your carpet will go from dirty to clean without needing time to dry, so you can be back in business quickly.
MilliCare's professional technicians are experts at commercial carpet spot removal, too. They are trained through our industry-leading certification program, and have a range of equipment and products specially formulated for different stains.
Just like carpet, textiles need to be cleaned. Chairs, couches, window treatments and cubicle panels are easy targets for dirt and grime. Reupholstering and replacing are time-consuming and expensive.
MilliCare pressurizes its commercial liquid textile cleaning solution to decrease its droplet size. Smaller droplets penetrate deeper into the material and can be more easily extracted. MilliCare removes the solution – and the dirt – so your employees are back to work within the hour.
Does your Indoor Air Quality need a boost? Our Air Care odor neutralizing solution is not just a temporary cover up. It permanently neutralizes and eliminates odors on a molecular level, giving you a renewed sense of clean in only twenty minutes.
The dirt's removed. Carpet textiles are clean and dry. The Indoor Air Quality improves. It's a job well done.