Wisp | by Gensler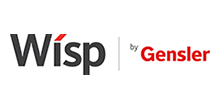 Gensler is a world leader in workplace design--from studying how people work to delivering solutions that bring choice and new experiences to the workplace.
Early on, we recognized that well managed space and occupancy data not only informs design, but is necessary for our clients to effectively manage their real estate portfolios. That's why we developed one of the first space management software platforms delivered through a Software-as-a-Service (SaaS) delivery model--our Workplace Information Solutions Platform, known as Wisp.
Today, Wisp, goes beyond SaaS. Our team of experienced CAD technicians maintains our clients' drawings and our advisor team brings strategic insight and recommendations for making the most of the data.
We're proud to say that Wisp is the solution of choice for real estate and facilities teams managing workplaces ranging from 300 to 275,000+ employees with dedicated and/or free address seating who value data integrity and exceptional service.
Wisp combines multiple tools and services into one easy-to-use package:
* Move Management
* Space Planning
* Space Management
* Utilization Studies
* Floor Plans
* Reporting
If you're like most of our clients who experience significant desk churn in the workplace, you'll enjoy our free guide: 6 Simple Steps to Optimize Your Move Management Process