LogiSon Acoustic Network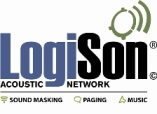 The LogiSon Acoustic Network is a networked sound masking, paging and music system that increases speech privacy and reduces noise disruptions in the workplace.


A centrally-located control panel, PC or handheld computer provides control over all audio settings and zoning. Changes can be made in minutes, without re-accessing the ceiling.