Ambius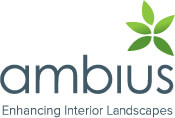 Creating healthy places to live, work, learn, and play
Ambius is the world's leading designer of healthy commercial spaces through plants, hygiene, and scenting solutions. We protect people from the dangers of poor hygiene. We enhance lives with services that protect the health and well-being of people, and the reputation of our customers' brands. With a deep understanding of the commercial environment, our consultative approach to design, installation, and service helps to create consistently superior experiences.
Ambius helps businesses bring their visions to life with a broad range of services for interior and exterior landscapes that focus on healthy building strategies. Our comprehensive services include: Hygiene360 surface, air, hand, assessment solutions, fresh clean scenting, premium scenting, social distancing divider green walls, moss, replica and living green walls, live and replica plant designs, blooming programs, and holiday décor.
As a world-class service organization, we believe that it's our people who make our company what it is, and we have a great team built upon a shared vision. Our team of experts and service professionals set us apart by delivering leading innovations and the highest levels of service in the industry.
Discover the Ambius difference:
● Highly trained, in-house design and service experts across North America; average tenure of 10 years
● Full-service, consultative approach
● World-class customer management program
● Industry leader with decades of experience designing global best practices and innovation
● Backed by decades of hygiene expertise and part of the world's leading hygiene services company in over 45 countries worldwide
● Tailored solutions, specific to your goals and brand standards
● One source solution for savings, consistency, convenience, and peace of mind
Founded in 1963, Ambius is a division of Rentokil Initial plc. one of the world's leading business services companies dedicated to protecting people and enhancing lives.
Ambius has been an IFMA Corporate Sustaining Partner since 2008.